Recanati Winery have launched a new wine called Recanati Marawi 2014. It is made from an indigenous grape variety. Marawi is a table grape grown from the Bethlehem area. The berries are large but they do have the aromatics for wine potential.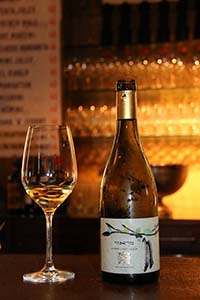 The pioneer with this variety is the Cremisan Monastery which produced a Hamdani Jandali blend at their winery. It shocked everyone by finishing first in a tasting conducted by the esteemed wine critic and Master of Wine, Jancis Robinson. It even finished ahead of all the other Israeli white wines in the tasting.
Recanati is now the first Israeli winery to make a wine from the Hamdani. They have called it Marawi which is a synonym. The Marawi is a balanced variety which has aromas of grapefruit, guava and tropical notes. The wines have a better acidity than the Jandali and a longer finish.
Could this be the beginning of a new awakening of local varieties, previously ignored or unknown to the majority of Israelis, who preferred Cabernet, Merlot and Chardonnay?
The well-known winemaker Avi Feldstein, ex Segal Wines, is currently making wine in a new, as yet un-named boutique winery. He took the humble, un-heralded Argaman from the coastal plain to the Galilee mountains, and made a memorable wine with it. He plans to continue his unique success with the Argaman grape and is also going to make a wine from Dabouki, another indigenous variety.
Dr. Shibi Drori, the winemaker of Gvaot Winery, is also in the midst of fascinating research into the local varieties, which he is conducting at Ariel University. This could result in more local varieties being identified for wine production.
Interestingly these same local varieties (excluding the Argaman which is a more recent creation), were probably used by the first wineries in the Old City of Jerusalem, way back in the mid-19th century. This was before Mikveh Israel and Baron Edmond de Rothschild planted European varieties. They would have been cultivated in Bethlehem and Hebron, handpicked by local Arab farmers and transported by donkey to Jerusalem, so the Shor and Teperberg wineries could make their wines.
Certainly the Argaman, Dabouki, Marawi/ Hamdani and Jandali wines are unlikely to be the best wines anyone has tasted from Israel, but they will be amongst the most interesting. Recanati should be congratulated on their initiative and encouraged to experiment further.