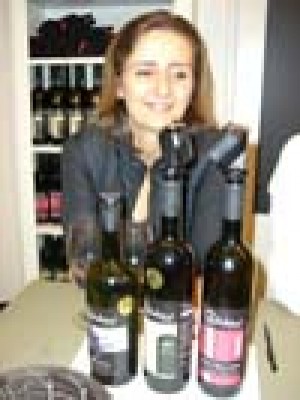 Jews are noticeably abstemious and throughout the ages have been far more associated with eating than drinking. Yet curiously there has always been a strong Jewish representation in the drinks industry. In Eastern Europe of the 19th century, Jews were involved in the production and sales of alcoholic beverages ? it was one of the few industries Jews were permitted to be involved in. In America there has always been a very strong Jewish presence in the retail and wholesale drinks business – from the days of Prohibition in the 1930?s until today.
Yet in the early years of Israel, the inhabitants just did not drink anything, except, occasionally, a glass of sweet red wine, but only in moderation. Apart from the ritual use of a sweet wine, people would occasionally drink a spritzer ? white wine and soda. Alternatively there was also a popular beverage called Malt Beer. It was dark, sweet, malty, but without alcohol and totally unlike beer. Most Israelis preferred Coca Cola and Sprite. However this has all changed in the last 15 years with a new drinks culture brought in by new immigrants, coinciding with the import of big global, well advertised, spirits and beer brands.
As the youth aspire for Israel to become more like America, new quality bars and pubs have spread like wild fire in places like Tel Aviv, Haifa ? and even reaching Jerusalem. Young Israelis leaving the army, are more than likely to study at one of the many bartending courses, then find work as barman to earn much needed money to finance travel and later, studies. This has created a whole new wave knowledgeable drinks connoisseurs.
The main Israeli produced alcoholic beverage brands, which are each historic in their own way, are:
Carmel (founded 1882) ? wine
Gold (founded 1824) ? vodka, arak
Goldstar (launched 1950) ? beer
Stock (launched 1938) ? brandy
Sabra (launched 1963) ? liqueurs
Reflecting the melting pot of Israel, each has their own unique story. Involved in their beginnings were two Rothschilds from France, a Bronfman from Canada, an Italian and a family from Russia. Furthermore, until today, each remains the largest selling Israeli produced product in their category.
The three main spirits of Israel are vodka, arak and brandy.
Vodka
Today by far the largest selling spirit in Israel is vodka. A taste for vodka was initially bought over with the Ashkenazi new immigrants from Eastern Europe. The latest influx from Russia in the 1990?s further increased its popularity. Young Israelis drink vodka with Red Bull and the older generation are more likely to have it with a standard mixer. Those from Eastern Europe still drink their vodka ice cold in a single shot glass, usually with food.
Gold Vodka is the best selling and best quality Israeli vodka. The Gold family came to Safed from Russia in 1824 having been distillers in Russia in the 18th century. After 1918 they began to build their distillery into a commercial concern. Joseph Gold & Sons is now situated at Tirat Ha?carmel. It is not only Israel?s oldest distillery still producing vodka, but also the only one for whom distilling has remained the core business.
Up to now Israeli vodkas have appealed only to those who buy on price. There has never been the ambition to create a quality, premium, de-luxe product, nor have budgets been available to support the creation of a really successful Israeli brand. Furthermore, since imports opened up, there are not only inexpensive imported vodkas on the market but also all the big global brands ? including Absolut, Finlandia, and Smirnoff – have invaded Israel and they dominate sales. As result Israeli produced vodkas have far smaller market share and are less important than before.
Arak
The indigenous spirit of Israel is Arak. This is from the root word Raki, which is of Arabic origin. In fact the distillation of spirits was an Arab invention in the Middle Ages. Arak is an anise flavored spirit which turns milky white when water is added. It is the ethnic spirit for most Mediterranean countries and is similar to the French Pastis, Turkish Raki, Greek Ouzo, Egyptian Zabib, North African Mahia, Spanish Ojen and Armenian Oghi. The Lebanese also call it Arak.
Arak is usually enjoyed in cafes as an aperitif or to accompany mezze ? Eastern Mediterranean hors d?oeuvres, and is most popular with Sephardi and Israeli Arab communities. The Alouf (50%) and Elite (40%) Araks, made by what is incongruously called Yekev Hagalil (Galilee Winery), are the best produced in Israel. Gold is the parent company confirming their position as the best Israeli producers of white spirits.
Israel has never managed to capitalize on Arak as the local, ethnic spirit with tourists in the same way as the Greeks have succeeded in doing with Ouzo. However it remains an authentic taste of the region, but there is now more competition. Some Lebanese Araks are now available in Israel and these are the best of all the anise flavored spirits. They are distilled three times from a base product made from grapes. Israeli Araks tend to be made from molasses.
Brandy
Like most wine producing countries, Israel is very proud of its brandies, which have also enjoyed a fair amount of success internationally.
The brandy with the highest profile is Stock 84 Brandy. Stock is a famous international company, founded in 1884 by an eighteen year old Lionello Stock in Italy. The Jewish owned company settled in Trieste and was a great success until the rise of Hitler & Mussolini. Then the distilleries were pillaged, closed or nationalized. Because of this, Lionello Stock, had to rebuild his company again towards the end of his life and chose to make a start in other countries like America ? and Israel. In 1938 he began to produce brandy in Ramat Gan. Their Stock 84 Brandy, now a major international brand, is still made in Israel under license by Barkan Winery, which is owned by Tempo Breweries.
Carmel began distilling excess grapes to produce brandy in 1898. Their distillery tower, at Rishon Le Zion Cellars, was built in the 1930?s and their four pot stills and two continuous stills date from the founding of the state. Carmel?s brandies are aged in barrels previously used to mature fine wines, in the original 100 year old barrel cellar, which still has the original wooden slatted roof. They produce the Carmel Extra Fine, 2 year old, which is Israel?s oldest brand of brandy, and the label has barely changed over the last 60 years. More-well known is the Carmel 777 Brandy, 3 year old, once known as Richon 777. This is a mere 50 years old and is the most exported Israeli brandy. The ?three sevens? were chosen because of the importance of the number seven in the Jewish religion.
However there are better quality brandies in Israel, which have received the ultimate recognition. Both Jonathan Tishbi Brandy and Carmel 100 Brandy, 9 year old, have won the Trophy for ?Best Brandy Worldwide? at the International Wines & Spirits Competition in London! This is a great compliment to Israel, but despite the pride of success at the highest possible level, brandy sales in Israel have been declining for a number of years. The older generation are loyal to Israeli brandies, but the new young sophisticated drinkers are more interested in whisky.
Liqueurs
Perhaps Israel?s most famous ?spirit? is the award winning range of Sabra Liqueurs, which are known as ?The Liqueurs of Israel?. Sabra was developed in the 1960?s by Charles Bronfman, one of the owners of drinks giant Seagram. The unique bottle was a copy of a Phoenician wine flask found in a Tel Aviv museum. The word ?Sabra? is the slang for a native born Israeli ? prickly on the outside, sweet on the inside.
Initially the liqueur was genuinely made from the Sabra cactus and was slightly pink in color. This was swiftly replaced by the more successful and unique Sabra Chocolate Orange liqueur, which is likely to be included on any respectable list of the world?s best liqueurs. This has been a best seller in Duty Free at Ben Gurion Airport for the last 40 years.
Grand Sabra is a new addition to the range. This is an orange brandy liqueur, made from kumquat oranges, macerated in three year old Carmel 777 Brandy. There is also a Sabra Coffee. All three liqueurs are made from natural ingredients.
Sabra Liqueurs are mainly popular as gifts from Israel but also used for cooking, making cocktails or as after dinner drinks. Out of all the Israeli spirits and liqueurs, it is arguably Sabra that has gained the best international reputation. They have won gold medals against the world?s best brands in the most prestigious international competitions.
Carmel produced Sabra on behalf of International Distillers of Israel (the Israeli marketing arm of the mighty Seagram) for many years, and then purchased the brand in 2003 when Seagram was split up and sold.
Beer
Wine was the staple of ancient Israel, not beer, (whereas brewing was more common in Babylon.) However beer jugs fitted with strainers have been discovered, indicating that the Philistines enjoyed beer.
The oldest beer brand in Israel is Nesher, which was first produced in 1934 in a company called Palestine Breweries, situated at Carmel?s Rishon Le Zion Wine Cellars! This was a joint venture involving a Frenchman Gaston Dreyfus of Paris, who was supported by James Rothschild and PICA. There was a wall separating the winery from the brewery and the workers used to meet there to barter wine for beer and vice versa. Palestine Breweries was successful during the time of the British Mandate because the British knew how to drink beer. When the British left, the industry declined.
Eventually the Palestine or Nesher Brewery closed and other breweries opened in Migdal Ha?Emek and Netanya. It was not until 1985 when Tempo, previously a soft drinks company, decided to enter the beer industry and brought all the different strands under one roof to form Tempo Beer Industries Ltd.
Arguably the finest Israeli beer is Tempo?s Goldstar. This was originally produced in the brewery situated at Rishon Le Zion Cellars in 1950. It is a Munich style, dark amber lager with a malty aroma and a full flavor. It has more character than some of the more famous international brands.
In 1995 Coca Cola Israel built a new brewery in Ashkelon in a joint venture with the Danish brewer Carlsberg and they now produce Carlsberg and Tuborg under licence. The Israeli beer market has since also been affected by the globalization of the drinks industry. The country is awash with international brands. So the beer lover has a glamorous choice of what to drink during the hot, humid summer in Israel. However, if they want to drink an authentic Israeli beer, the Goldstar will not disappoint. It is a high quality product, but regrettably outside Israel remains virtually unknown.
Wine
The most well known wineries or wine brands overseas are Carmel and Yarden. Carmel was founded in 1882 by Baron Edmond de Rothschild using French expertise and remains the historic winery of Israel. There is no Jewish community anywhere in the world, unfamiliar with Carmel wines. Yarden is the premier wine of the Golan Heights Winery, founded in 1983 using Californian expertise, which started the quality revolution in Israel. They won numerous international medals to put Israel on the international wine map.
Today Israel regularly wins prizes in international competitions of the standard of Vinexpo in Bordeaux and the IWSC in London. Small wineries like Castel, Clos de Gat, Flam, Margalit and Yatir have gained an international reputation. Larger wineries like Barkan, Binyamina, Carmel, Dalton, Galil Mountain, Recanati and Tishbi have also joined the Golan Heights Winery winning gold medals in major international wine tasting competitions. This is without doubt the alcoholic beverage Israel makes best and the one that has withstood the import onslaught. Now there are at least 25 commercial wineries in Israel and about 150 boutique wineries or garagistes
In Israel of today there has been nothing less than a wine revolution. There are professional wine stores in almost every mid-sized town. There are Israeli wineries of all sizes from the northern Golan (Odem Mountain) to the southern Negev (Neot Smadar). There are Israeli wine exhibitions, Israeli wine competitions, wine magazines in Hebrew and Israeli wine auctions. There are over subscribed tasting clubs, winemaking courses and wine appreciation courses. The wine industry has really come of age. All the major international brands from the main wine producing countries are now imported to Israel. In the supermarkets, hotels and kosher restaurants, both the imported and Israeli wines have to be kosher. In most of the restaurants, bars and wine stores, the wines are not kosher. There is also a small but growing market for expensive, prestigious wines especially imported for private customers, from places like Bordeaux.
So despite the historic, at one time people thought genetic, aversion of Jews towards alcohol, Israel is becoming a dynamic haven for all types of alcoholic beverage. However despite the shock amongst the elder generation about the creeping, new alcohol culture, consumption still remains small and far behind most western societies. As far as Israel products are concerned, it is wine which is the best equipped of all alcoholic beverages to represent Israel overseas and in the wider international markets.