The annual Israeli wines competition 'Eshkol Hazahav', (meaning Golden Cluster), was held for the 17th consecutive year. The award ceremony took place on Tuesday, June 18th, at Heichal Ha'Tarbut in Tel Aviv. This year, 255 wines were submitted and tested over three days. The judgment committee consisted of 33 professional – winemakers, sommeliers and wine experts. The competition's chairpersons were as usual hotelier Mr. Haim Spiegel and Adv. Nachman Cohen Tzedek. The competition was organized by Studio Ben Ami.
Overall the best performer were the Barkan Winery and Segal Wines, which won four gold medals between them, on behalf of their parent company, Tempo Beverages. Barkan-Segal were dominant in the white wine category and Teperberg dominated the reds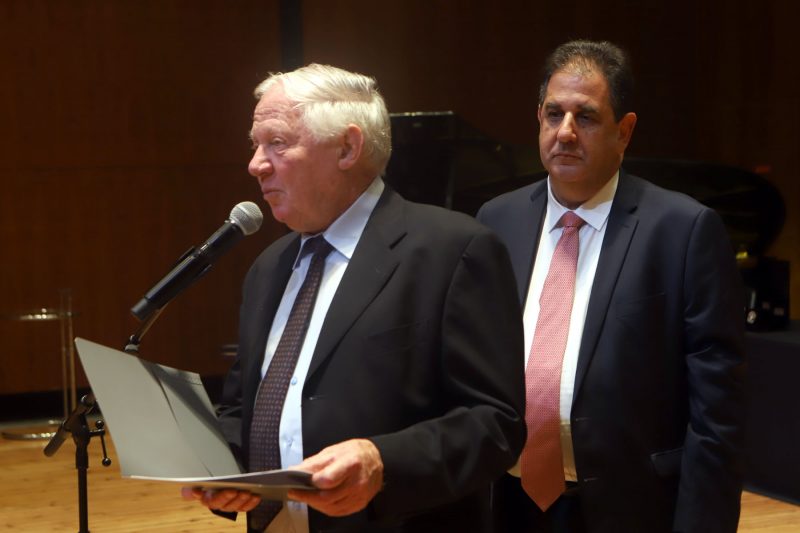 Mr. Haim Spiegel (right) and Adv. Nachman Cohen Tzedek.

   … And the winners are
White Wines
Sauvignon Blanc
1. GOLAN HEIGHTS, Sauvignon Blanc, Yarden 2018
2. BINYAMINA, Sauvignon Blanc, Reserve 2018
3. RECANATI, Sauvignon Blanc 2018
Chardonnay – up to 80 NIS
1. SEGAL, Chardonnay, Free Run 2018
2. BINYAMINA, Chardonnay, Reserve 2018
3. CARMEL, Chardonnay, Vineyards 2017
3. MONY, Chardonnay, Reserve 2017
Chardonnay – Above 80 NIS
1. ODEM MOUNTAIN, Chardonnay, Volcanic 2018
2. CARMEL, Chardonnay, Admon 2017
3. BAZELET HAGOLAN, Chardonnay, Reserve 2018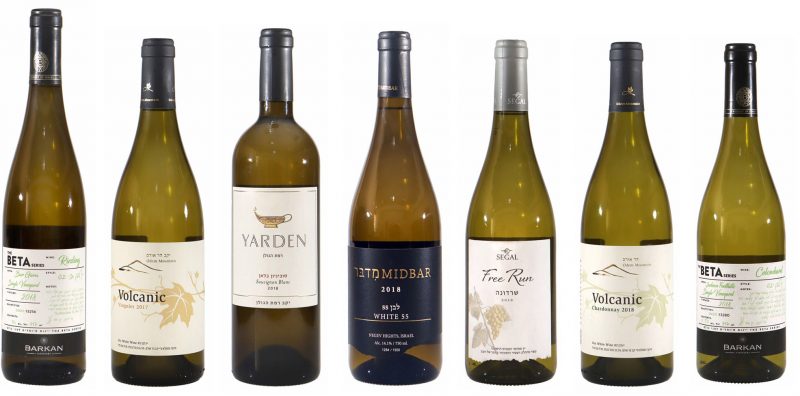 Alsace Grape Variety
1. BARKAN, Riesling, Beta 2018
2. DALTON, Pinot Gris 2018
3. GOLAN HEIGHTS, Pinot Gris, Yarden 2018
Rhone Grape Variety
1. ODEM MOUNTAIN, Viognier 2017
2. ELLA VALLEY, Viognier, Vineyards 2017
3. MIDBAR, Viognier 2018
Other white Grape Variety
1. BARKAN, Colombard, Beta 2018
2. BARKAN, Marawi, Beta 2017
3. BIN NUN, Chenin Blanc 2018
3. BINYAMINA, Semillon, Reserve 2018
White Blends
1. MIDBAR, White 55 2018
2. CARMEL, 2 Vats 2018
3. ELLA VALLEY, Nes Harim 2017
Rose
1. GALAI, Rose, Casa Rosa 2018
2. DALTON, Rose, Alma 2018
3. GALAI, Rose, Casa Nova 2018

Red Wines
Blends  – 50-90 NIS
1. CARMEL, Shani, Vineyards 2014
2. BINYAMINA, Sapphire 2016
3. GOLAN HEIGHTS, Cabernet-Merlot, Gamla Hashmura 2016
Blends – 90-120 NIS
1. GOLAN HEIGHTS, 2T, Yarden 2016
2. SHILOH, Fiddler 2017
3. RAMOT NAFTALY, Duet 2017
Blends – above 120 NIS
1. BINYAMINA, Meirav Vineyards 2016
2. PSAGOT, Peak 2016
3. JERUSALEM, Montefiore Windmill, Yemin Moshe 2016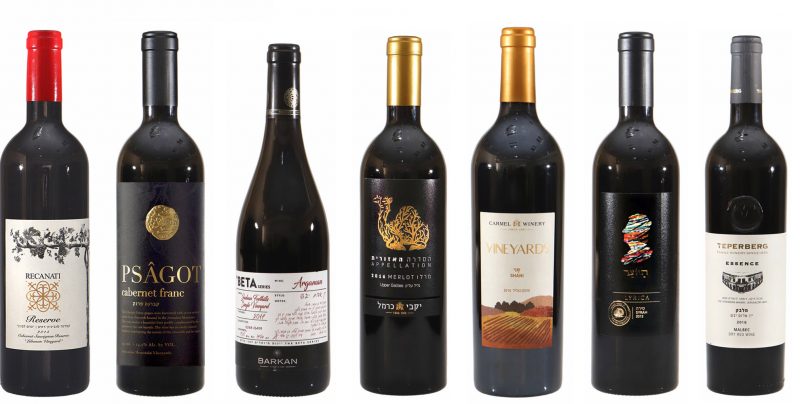 Cabernet Sauvignon – Up to 100 NIS
1. RECANATI, Cabernet Sauvignon, Reserve 2015
2. BINYAMINA, Cabernet Sauvignon, Reserve 2016
3. La Citadelle, Cabernet Sauvignon 2017
Cabernet Sauvignon – above 100 NIS
1. SHILOH, Cabernet Sauvignon, Secret 2016
2. SEGAL, Cabernet Sauvignon, unfiltered 2016
2. JERUSALEM, Cabernet Sauvignon, Montefiore Windmill 2016
2. ODEM MOUNTAIN, Cabernet Sauvignon, 1060 2016
Merlot – up to 90 NIS
1. CARMEL, Merlot, Appellation 2016
2. SEGAL, Merlot, Free Run 2017
3. RECANATI, Merlot 2018
Merlot – above 90 NIS
1. TURA, Merlot, Mountain Heights 2016
2. JERUSALEM, Merlot, Montefiore Windmill 2016
3. TEPERBERG, Merlot, Essence 2016
Syrah – up to 90 NIS
1. HAYOTZER, Syrah, Lirica 2012
2. RECANATI, Shiraz 2018
3. BINYAMINA, Syrah, Ruby 2016
Syrah – above 90 NIS
1. SHILOH, Shiraz, Secret 2016
2. DALTON, Shiraz, Elkosh 2016
3. JERUSALEM, Shiraz, Montefiore Windmill 2016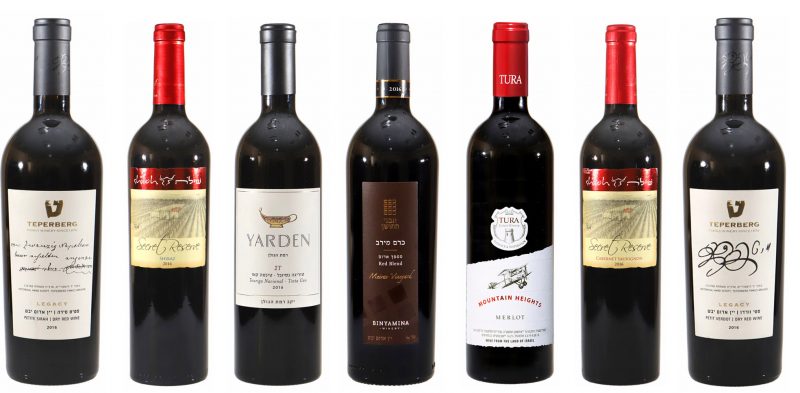 Cabernet Franc
1. PSAGOT, Cabernet Franc 2018
3. TEPERBERG, Cabernet Franc, Legacy  2016
Petit Verdot
1. TEPERBERG, Petit Verdot, Legacy 2016
2. MONY, Petit Verdot, Nahal 2017
Petit Syrah
1. TEPERBERG, Petit Syrah, Legacy 2016
2. RECANATI, Petit Syrah 2018
Malbec
1. TEPERBERG, Malbec, Essence 2016
2. CARMEL, Malbec, Admon Vineyard 2015
 Other Red Grape Variety
1. BARKAN, Argaman, Beta 2017
2. RECANATI, Marselan, Reserve 2016
3. BINYAMINA, Marselan, Reserve 2016
Archive wines (2007-2011)
1. Ya'acov Oryah, Aspamia Dream, Grand Reserve 2011
2. Ya'acov Oryah, Aspamia Dream, Reserve 2011
3. Miron,Jermak 2011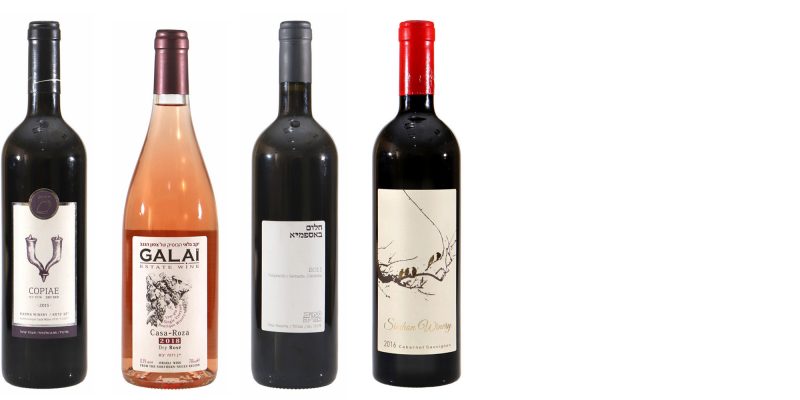 Small Boutique Winery
Cabernet Sauvignon
1. SIMHON, Cabernet Sauvignon 2016
2. BERENICE, Cabernet Sauvignon 2016

General
1. KADMA, Copiae 2015
2. SHIRAN, Trio 2017