Yonatan (Jonathan) Tishbi has been presented with the Terravino Lifetime Award 2022-3 at a ceremony held at the Bayit b'Yam (House on the Sea) in Jaffa. Tishbi is the founder and owner of Tishbi Winery. Terravino is Israel's main annual international wine and spirits competition, founded and managed by Haim Gan of Ish Anavim (Grape Man.)
Yonatan Tishbi comes from a family of growers. Michael and Malka Chamiletzki made Aliyah from Lithuania at the end of the 19th century and planted vineyards for Baron Edmond de Rothschild, founder of the modern Israel wine industry. Yonatan is the fourth generation that owned and managed vineyards at Shefaya in the Coastal Plain, near Zichron Ya'acov. In 1925, they adopted the name 'Tishbi', which was an acronym, suggested to them by Haim Bialik, the national poet of Israel.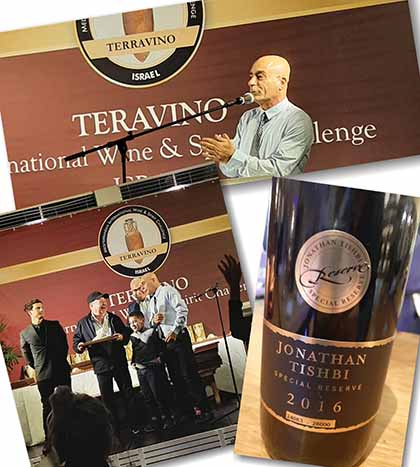 The Tishbis were part of the wine growers' cooperative that then controlled 75% of Israeli. This was Carmel SCV des Grandes Caves, known in Hebrew as Agudat Hacormim. In 1984 they had financial difficulties and did not pay their growers. Yonatan Tishbi visiting Italy, saw that there, wine growers made their own wine. So in 1985, he decided to go it alone, found his own winery and break away from the cooperative. In those days it was a courageous move, with no certainty of success. His winery was named Baron Winery in honor of Baron Rothschild, but it soon became known as Tishbi Winery.
This was before the wine boom in Israel. The Golan Heights Winery, pioneers of the quality revolution, was only founded in 1983. The blossoming of small, boutique wineries that followed in the 1990s was mainly made by growers who decided to use some of their own grapes to make their own wine, or domestic winemakers, who decided to go commercial even on a tiny scale. Yonatan Tishbi was the first of these and the rest is history.
Many of Israel's more well-known winemakers have worked at Tishbi through the years. These included Yair Margalit, Ed Salzberg, Lewis Pasco and Assaf Paz. Eventually Golan Tishbi, Yonatan's son, studied in New Zealand and took over as winemaker. The winery remained a family affair. Nili Tishbi, Yonatan's wife, looked after the visitors' center. Golan's brother, Michael Tishbi, a lawyer by profession, was responsible for the labels. Oshra, their sister, established a café at the family house in the center of Zichron and created a line of gourmet products 'Fine Foods by Oshra Tishbi'.
Tishbi Winery today produces a million bottles a year. The winery is situated between Binyamina and Zichron Ya'acov, two winery towns in the northern Coastal Region, founded by Rothschild. The winery made a strategic decision to focus on wine tourism, and have become a much loved venue for foodies. They have a restaurant on site (rare in Israel.) The represent Valrhona Chocolate from France and offer wine and chocolate tastings. They opened a bakery, installed a pizza oven and opened a BBQ Garage using an Ole Hickory Pits smoker. The winery also offers a wine filling service for those who bring a bottle. Again, something new for Israel. On view is also the pot still with which Tishbi make their brandy, which won the title of Best Brandy Worldwide in 1996. Their wine labels range from the entry level Tishbi, then the Estate, up to the Special Reserve and Single Vineyard wines.
Of the other main awards at Terravino 2022-2023, Teperberg Winery won Best Winery, Amphorae Winery won Best Boutique Winery and Kerem Barak Winery won Best Small Boutique Winery, less than 10,000 bottles.
Photo: Ish Anavim